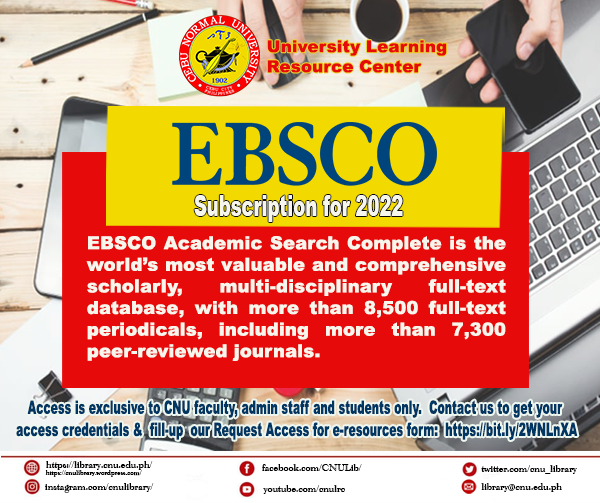 Good news CNU LRC can now access EBSCOhost databases, to get your access credentials just fill-up our form to request access to our e-resources link: https://library.cnu.edu.ph/e-resources-request-form/
EBSCO –  is an intuitive online research platform used by thousands of institutions and millions of users worldwide. With quality databases and search features, EBSCOhost helps researchers of all kinds find the information they need fast. Link : http://search.ebscohost.com
Database included in the subscription:
Academic Search Complete, is the world's most valuable and comprehensive scholarly, multi-disciplinary full-text database, with more than 8,500 full-text periodicals, including more than 7,300 peer-reviewed journals. In addition to full text, this database offers indexing and abstracts for more than 12,500 journals and a total of more than 13,200 publications including monographs, reports, conference proceedings, etc. The database features PDF content going back as far as 1887, with the majority of full text titles in native (searchable) PDF format. Searchable cited references are provided for more than 1,400 journals.
CINAHL®Complete, is the world's most comprehensive source of full-text for nursing & allied health journals, providing full text for more than 1,300 journals indexed in CINAHL. This authoritative file contains full text for many of the most used journals in the CINAHL index, with no embargo. CINAHL®Complete is the definitive research tool for all areas of nursing & allied health literature.
Communication & Mass Media Complete, provides the most robust, quality research solution in areas related to communication and mass media. CMMC incorporates the content of CommSearch (formerly produced by the National Communication Association) and Mass Media Articles Index (formerly produced by Penn State) along with numerous other journals in communication, mass media, and other closely-related fields of study to create a research and reference resource of unprecedented scope and depth encompassing the breadth of the communication discipline. CMMC offers cover-to-cover ("core") indexing and abstracts for more than 570 journals, and selected ("priority") coverage of nearly 200 more, for a combined coverage of more than 770 titles. Furthermore, this database includes full text for over 450 journals.
Education Source, is designed to meet the needs of education students, professionals and policy makers. The collection provides indexing and abstracts for more than 2,850 academic periodicals and includes full text for more than 1,800 journals, 550 books and monographs, education-related conference papers, citations for over 4 million articles including book reviews and over 100,000 controlled and cross-referenced names of educational tests. Coverage in Education Source spans all levels of education from early childhood to higher education and also includes educational specialties such as multilingual education, health education and testing.
ERIC, the Education Resource Information Center, provides access to education literature and research. The database provides access to information from journals included in the Current Index of Journals in Education and Resources in Education Index. Content includes journal articles, research reports, curriculum and teaching guides, conference papers, dissertations and theses, and books dating back to 1966.
Hospitality & Tourism Complete, covers scholarly research and industry news relating to all areas of hospitality and tourism. This collection contains more than 828,000 records, with coverage dating as far back as 1965. There is full text for more than 490 publications, including periodicals, company & country reports, and books.
OpenDissertations, is an open-access database built to assist researchers in locating both historic and contemporary dissertations and theses. Created with the generous support of the H.W. Wilson Foundation and the Congregational Library & Archives in Boston, it incorporates EBSCO's previously released American Doctoral Dissertations, and features additional dissertation metadata contributed by select colleges and universities from around the world. Providing researchers with citations to graduate research across a span of time, from the early 20th century to the present, this database will continue to grow through regular updates and new partnerships with graduate degree-granting institutions.
Library & Information Science Source, was developed to meet the needs of librarians, information professional and students. Content includes full text for more than 460 publications and indexing for hundreds of high-quality journals, as well as books, research reports and proceedings. Subject coverage encompasses librarianship, classification, cataloging, bibliometrics, online information retrieval, information management and more. In addition, Library & Information Science Source provides comprehensive coverage of the history of library studies.
eBook Academic Collection (EBSCOhost), This growing subscription package contains a large selection of multidisciplinary eBook titles representing a broad range of academic subject matter, and is a strong complement for any academic collection. The breadth of information available through this package ensures that users will have access to information relevant to their research needs.
MAS Ultra – School Edition Designed specifically for high school libraries, this database contains full text for nearly 500 popular, high school magazines. MAS Ultra – School Edition also provides more than 360 full text reference books, 85,670 biographies, over 107,000 primary source documents, and an Image Collection of over 510,000 photos, maps & flags, color PDFs and expanded full text backfiles (back to 1975) for key magazines.
MAS Reference eBook Collection, This ebook reference collection offers a rich selection of eBook titles covering a broad range of general reference subjects for high school students. Topics include biography, history, careers, language arts, literature, government, health, math, science, current events, and social-emotional health.
Funk & Wagnalls New World Encyclopedia, This database provides over 25,000 encyclopedic entries covering a variety of subject areas.
Primary Search, provides full text for more than 70 popular, magazines for elementary school research. All full text articles included in the database are assigned a reading level indicator (Lexiles), and full text information dates as far back as 1990.
Primary Search Reference eBook Collection, This ebook reference collection offers a rich selection of eBook titles covering a broad range of general reference subjects for primary school students. Topics include social studies, history, language arts, geography, culture, math, and science.
For more information on how to access or use the EBSCO database just click the video tutorial below!