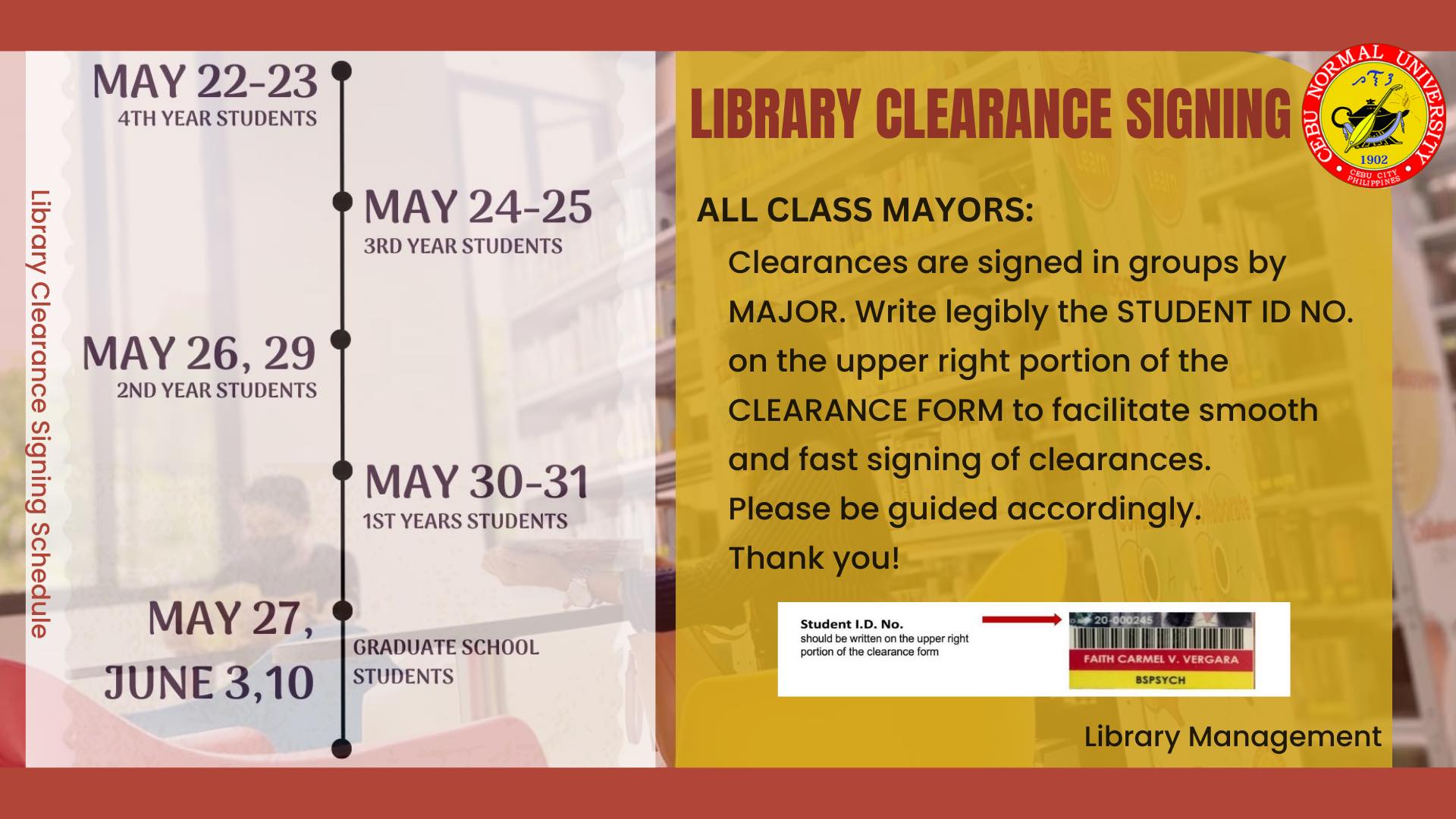 Attention All Students at the CNU-Main Campus!!!
𝐒𝐂𝐇𝐄𝐃𝐔𝐋𝐄 𝐎𝐅 𝐋𝐈𝐁𝐑𝐀𝐑𝐘 𝐂𝐋𝐄𝐀𝐑𝐀𝐍𝐂𝐄 𝐒𝐈𝐆𝐍𝐈𝐍𝐆 (𝟐𝐧𝐝 𝐒𝐞𝐦., 𝐒𝐘 𝟐𝟎𝟐𝟐-𝟐𝟎𝟐𝟑)
May 22-23, 2023 – 4th Year Students
May 24-25, 2023 – 3rd Year Students
May 26, 29, 2023 – 2nd Year Students
May 30-31, 2023 – 1st Year Students
(Graduate School Students – May 27, June 3, 10, 2023)
𝙏𝙤 𝘼𝙡𝙡 𝘾𝙡𝙖𝙨𝙨 𝙈𝙖𝙮𝙤𝙧𝙨:
Clearances of students are signed in groups by Major. Please write legibly the Student I.D. No. on the upper right portion of the clearance form to facilitate the smooth and fast signing of clearances. School I.D. need not be presented during clearance signing. Please be guided accordingly.
For more details, please visit us at the 2nd level of the LRC (Circulation Counter). Thank you.
𝘛𝘩𝘦 𝘤𝘭𝘦𝘢𝘳𝘢𝘯𝘤𝘦 𝘧𝘰𝘳𝘮 𝘪𝘴 𝘢𝘷𝘢𝘪𝘭𝘢𝘣𝘭𝘦 𝘢𝘵 𝘵𝘩𝘦 𝘖𝘧𝘧𝘪𝘤𝘦 𝘰𝘧 𝘵𝘩𝘦 𝘚𝘵𝘶𝘥𝘦𝘯𝘵 𝘈𝘧𝘧𝘢𝘪𝘳𝘴.