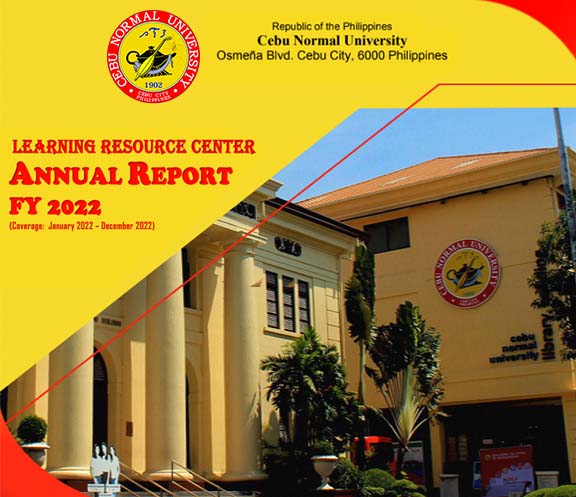 LEARNING RESOURCE CENTER ANNUAL REPORT 2022
(Coverage : January 2022 – December 2022)
The Cebu Normal University Learning Resource Center announces its accomplishments for the period January 2022 to December 2022. The services offered in the Learning Resource Center comprises of library and information resource provision; study spaces; research support systems; special collections and more. All these areas form part of the fundamental academic support provided to all learners and researchers at CNU. The Library also continued to adapt to the demands that the pandemic placed upon it. Through this annual report, academic community will find details about the activities and endeavor the CNU library has been doing. This will serve also as a guide to enhance the services, future planning and decision making, as excellent customer service is the top priority.
The FY 2022 Annual Report coverage include: Library Expenditures (Procurement), Services and Utilization, Accomplishments per Area or Sections of the Library, Staff Development, Library Activities Implemented, Physical Facilities and Needs/Concerns/Recommendation. READ MORE…