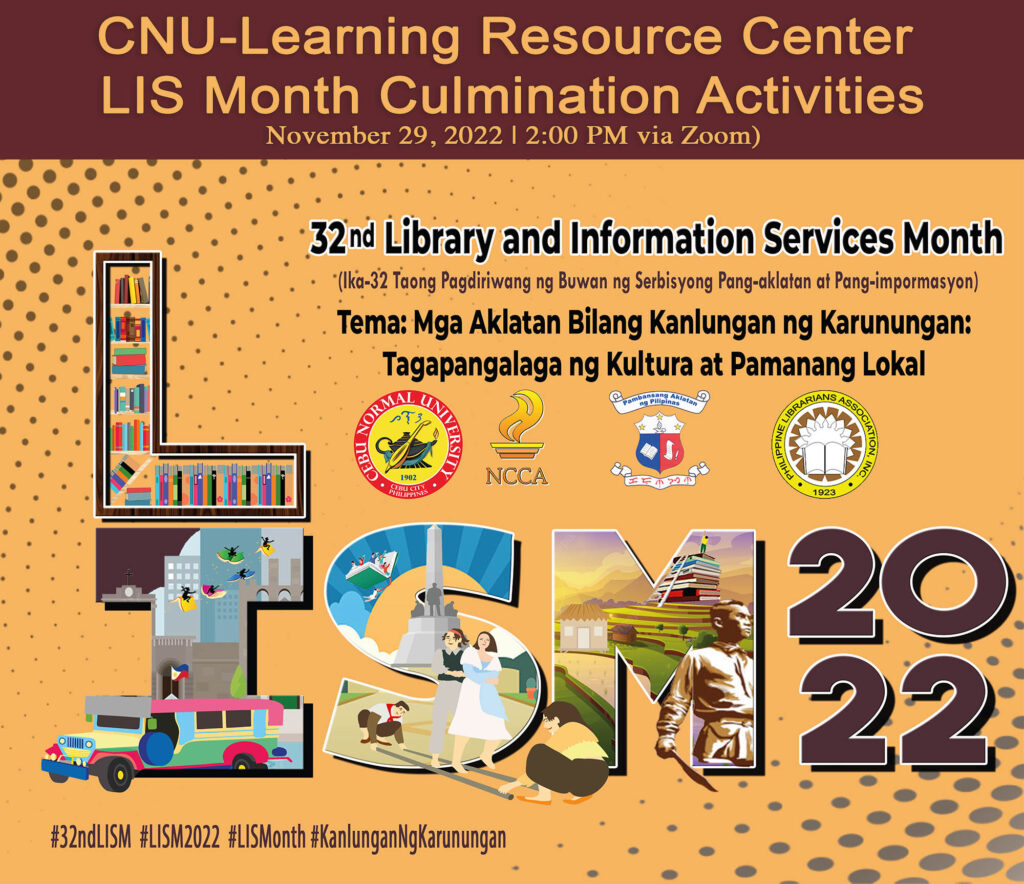 By Ang Suga Publication
Words and Screenshots by Donna Rose Egos and Marjuice Destinado
Cebu Normal University's (CNU) – Learning Resource Center (LRC) culminated the month-long nationwide celebration of the 32nd Library and Information Services (LIS) Month and the 88th National Book Week yesterday, November 29, 2022, via Zoom.
Bound to the theme, "Mga Aklatan Bilang Kanlungan ng Karunungan: Tagapagtalaga ng Kultura at Pamanang Lokal", the concluding event incorporated LIS Talk and awarding of the contest winners.
CNU-LRC's Head Librarian Ms. Mary Jhoanne T. De La Cruz emphasized the importance of books and reading in line with the National Book Week theme "Basa.Bayan.Bukas" in her opening remarks.
"Reading, especially local publications, helps each of us recognize our Filipino culture and heritage as well as how we can mold ourselves for the future of our beloved country," she added.
Additionally, she welcomed the participants through a video presentation showcasing highlights of LIS Month, wherein various activities were shown such as the blessing ceremony and the ribbon-cutting of the newly renovated library.
Resource speaker Mr. Rufino Rego G. Sanchez, registered Psychometrician and Mental Health Advocate, centered his talk on how libraries support students' and young professionals' mental health, its supporting evidence, and its implications.
He presented four pointers during the LIS Talk namely: (1) to provide information on what is Mental Health, (2) to identify stress levels, (3) to present data on how libraries support students' mental health, and (4) to introduce how libraries can support students' mental health.
"School libraries foster student well-being by providing students a safe space where creativity, information, healthy ways of coping, and mindfulness are valued," Sanchez concluded.
The winners of the Digital Poster Making Contest, Flex Mo, Library Mo competition, Borrow a Book and Win a Prize, and the Top Library Users for student and faculty categories were recognized and awarded with cash prizes, tokens, and certificates of appreciation.
Moreover, the top 1 library users for students and faculty were given the chance to express their messages upon being hailed as the top awardees for their respective categories.
Andrea Ellaine R. Galorport (Bachelor of Special Needs Education major in Generalist Special Needs II) expounded on the importance of LRCs by sharing a quote from J.K. Rowling, "When in doubt, go to the library."
Meanwhile, a faculty of CNU – Integrated Laboratory School (ILS) Mr. Jiffy R. Cabarse expressed his feelings of gratitude and went on to yearn for the development of the university's library.
"I do hope and pray that our CNU Learning Resource Center (LRC) will continually improve in order for it to thrive and grow, and later on evolve into the best learning resource center that Cebu City can offer," he stated.
In her closing remarks, Vice President for Academic Affairs (VPAA) Dr. Gwendelina A. Villarante conveyed her message of appreciation to the LRC team by acknowledging their efforts for setting about the success of the event.
"The activities conducted during the month-long celebration has [have] allowed people to access a learning space where reading, inquiring, research, thinking, and creativity are central to students' information to knowledge journey," she said. §
The winners of the contests are as follows:
Digital Poster Making Contest
Inajhey Lomongo (Bachelor of Special Needs Education major in Generalist Special Needs)
Flex Mo, Library Mo
Julius Cezar Candido (Bachelor of Science in Nursing)
Top Library Users – Faculty Category
Top 1: Mr. Jiffy R. Cabarse (ILS)
Top 2: Ms. Ophelynn Cano (College of Arts and Sciences)
Top 3: Ms. Marites A. Serenado (College of Teacher Education)
Top 4: Mr. Janrey Colmo (College of Arts and Sciences)
Top 5: Ms. Elma Polinar (College of Arts and Sciences)
Top Library Users – Student Category
Top 1: Andrea Ellaine R. Galorport (Bachelor of Special Needs Education major in Generalist Special Needs)
Top 2: Edmarie P. Tabacolde (Doctor of Science in Nursing)
Top 3: Jonah Mae F. Satinitigan (Bachelor of Secondary Education major in Social Studies)
Top 4: Jamaica M. Ola-a (Bachelor of Secondary Education major in Social Studies)
Top 5: Christel Jirah D. Codilla (Bachelor of Science in Nursing)